The Colorado mountains are arguably one of the most gorgeous places in the United States to experience the changing Summer landscape to full on Fall foliage. This draws in tourists from across the world, which causes traffic through the Colorado scenic byways and highways from people trying to catch a glimpse of visual heaven. Don't you want to get away from the road and experience the colors and scents first hand? Get out of the traffic and try your hand at fly fishing! This is perfect for beginner fly fisherman and experienced anglers alike, and there is nothing better than feeling the crunch of dry leaves under your feet and breathing in the crisp, earthy air on your way to the water. Don't worry if you don't know where to start—these are the best places to fly fish in autumn!
Image courtesy of coloradoflyfishingreports.com
Fly Fishing on the Arkansas River
Head up to Buena Vista which is located in central Colorado and renowned for the Collegiate Peaks Wilderness Area and its laid-back mountain town atmosphere. The Arkansas River, one of Colorado's major waterways with crystal-clear water, runs through this town. Many stretches of this river are considered Gold Medal waters, which means the Colorado Parks and Wildlife Commission has found that there are at least 60 pounds worth of 12-24 inch trout per acre! Take a guided Arkansas Valley Never-Ever Fly Fishing tour to take all the pressure off of finding the perfect Fall views and best fishing areas. The best part about this guided fishing trip is that all of your gear is provided, including a one-day Colorado fishing license, and your guide will be incredibly seasoned and can help you every step of the way.
Trip Length: ½ day (1 to 2 hours) or Full Day (4 to 5 hours, includes lunch by the water)
Difficulty: Level 2, some physical activity may be required
Minimum Age: 10 years old
Walk & Wade on the Colorado River
Many fly fisherman feel that the Colorado River fishes the best when fall arrives because the river conditions are most consistent during this time. The water temperature is ideal, the water clarity is the best it will be all year, the water levels flow perfectly and there is an abundance of Brown Trout since they spawn at the end of September through November! Take a trip up to Kremmling, Colorado to experience a guided Walk & Wade Fly Fishing Trip that includes all of your gear. Just bring a Colorado fishing license, sunscreen and a sense of adventure! This trip fits the needs of any angler, experienced or not.
Trip Length: ½ day (2 hours)
Difficulty: Level 2, some physical activity may be required
Minimum Age: 10 years old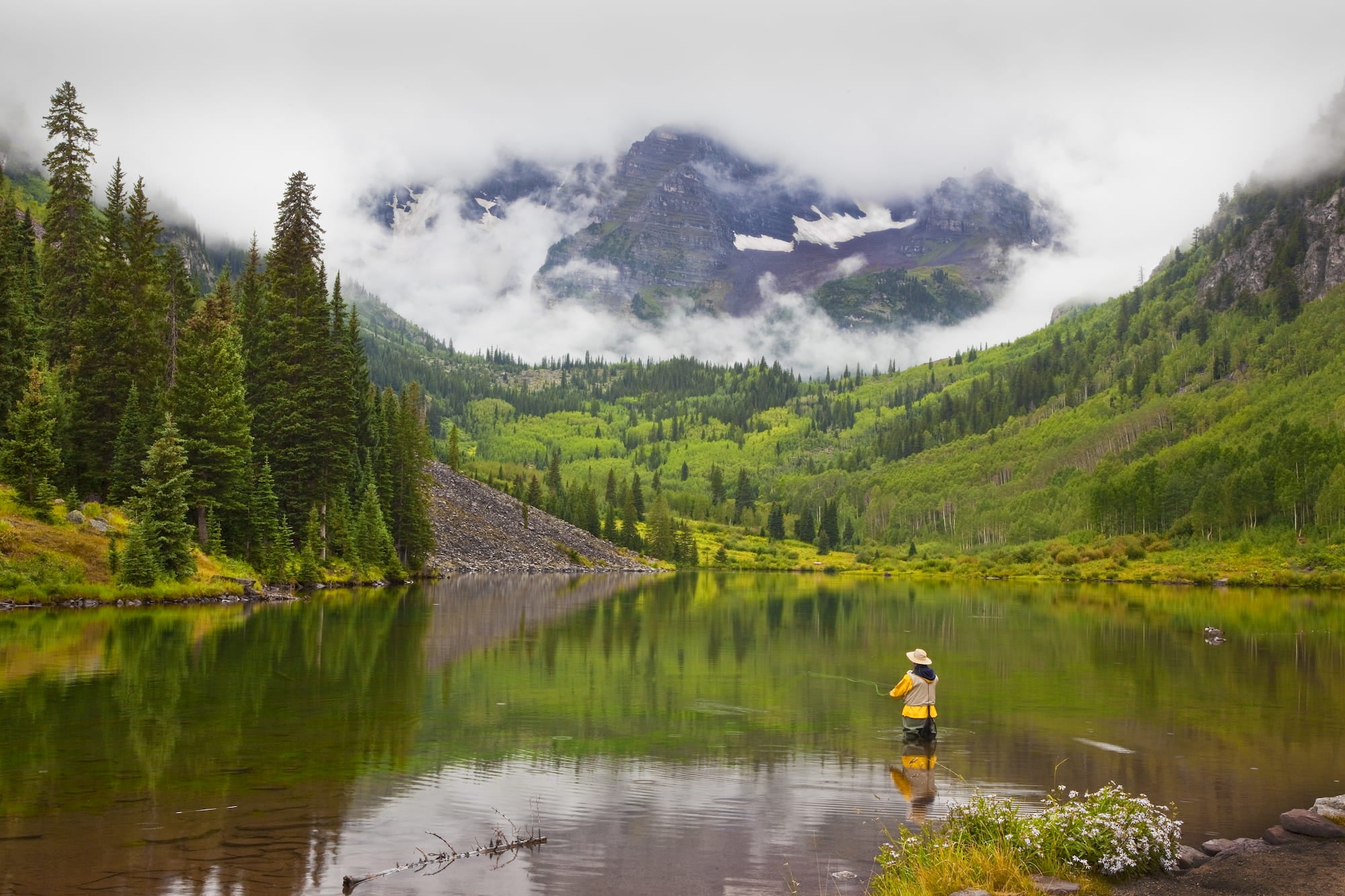 Image courtesy of thedyrt.com
Alpine Lake Trips
Take a hike through the forest and see all of the red and yellow leaves from above the timberline at at least 11,000 feet in elevation. You will be sure to feel on top of the world looking down, only to be mesmerized even more once you set sight on the alpine lake where you are about to fly fish! Head out to Salida, Colorado for a guided hiking and fishing tour like no other. Trips vary from short walks to multiple hour hikes, and you can either fly fish from the shore line or take out an inflatable float tube that you will pack in on your hike. Take your adventure to the next level by taking an alpine lake trip!
Image courtesy of aspensojo.com
Fly Fishing at the Roaring Fork River
The Roaring Fork River splits off from the Colorado River and runs for about 70 miles through West-Central Colorado. For anglers looking to catch strong and healthy fish, this is the river for you due to the sheer power the river carries. Since the flow of the river is so strong, small, weak fish are unable to reach the area. Fall is ideal to hit up this river because you'll only catch large fish and get to take in the views from all around.
Make sure you get out this Fall and enjoy all the colors have to offer. Check out any of these trips to get a full Autumn angler experience!